Jay-Z on Blue Ivy: "I'll Probably Have The Worst, Spoiled Little Kid Ever"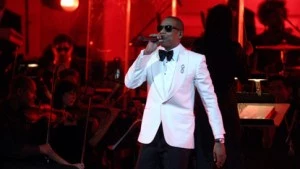 Jay-Z believes his daughter Blue Ivy Carter may become "the worst, spoiled little kid ever." Those were Hov's sentiments when speaking about being a new parent on the Oprah Winfrey Network show, Oprah's Master Class: Special Edition on Sunday night (May 6).
"Well, I mean, everyone imagines they'll be a great dad," Jay said. "Until they're teenagers saying, 'Get away from me, Dad. You're embarrassing me!' Right? Everyone imagines that, right? I imagine I'll take things I learned from my mom and things I've learned from raising my nephews and apply that."
"Then at the end of the day," he joked, "I just know I'll probably have the worst, spoiled little kid ever."
Baby Blue Ivy is just four-months-old.
Aside from her, Hov is busy with his other baby, the Brooklyn Nets. That's the NBA franchise that will being playing in Brooklyn for the 2012-13 NBA season, which will tip-off this fall.
The franchise made noise last week, when New York Post columnist Phil Mushnik wrote:
"Why the Brooklyn Nets when they can be the New York N——s?" Mushnick wrote in his Friday's column entitled, Nets on Jay-Z track. "The cheerleaders could be the Brooklyn B—-hes or Hoes. Team logo? A 9 mm with hollow-tip shell casings strewn beneath. Wanna be Jay-Z hip? Then go all the way!"
Calls to Roc Nation, seeking comment from Jay-Z, weren't returned, however, Mushnik did try to reason his sentiment with this statement his rep sent to XXLMag.com.
"A good portion of my columns, the last 30 years, has been devoted to the identification and condemnation of increased incivility and social desensitization as marketing strategy within sports and all forms of entertainment," Mushnik wrote in the statement. "I see this as no different and I plan to continue to argue against the negative racial and ethnic stereotyping and the promotion of mindless violence, especially to the young and most vulnerable."—Mark Lelinwalla