G. Dep Sentenced to 15 Years in Prison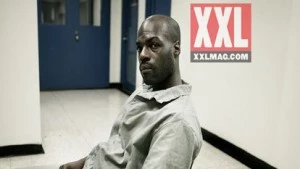 G. Dep will spend at least 15 years in prison.
Trevell "G. Dep" Coleman was sentenced to 15 years in prison on Tuesday (May 8), exactly three weeks after being found guilty of a 1993 New York City killing.
On April 17, the 37-year-old former Bad Boy Records rapper was found guilty of the 1993 murder of Queens man John Henkel. The verdict came after December 2010, when  Coleman now-infamously walked into the New York Police Department's 25th Precinct, in Harlem, to make the startling confession that he shot and killed Henkel in a botched robbery attempt.
"The circumstance of your being before the court now suggests to me a maturity and decency that wouldn't have been evident at the time," Manhattan Supreme Court Justice Michael Obus said of the sentence, the lowest allowed by law, in court Tuesday, according to the New York Post. "It was the right thing to do, even though it landed you in the position you find yourself in now."
Calls to Dep's attorney, Anthony Ricco, weren't immediately returned.
Despite Ricco shrewdly arguing evidence inconsistencies hard during the murder trial and insinuating that detectives had matched his client to the wrong man's death, the prosecution was successfully able to convince the 12 jurors that Coleman was indeed responsible for Henkel's death. The jury did link him to the homicide, which took place nearly 20 years ago.
Shortly after the guilty verdict last month, G. Dep did tell XXL that he felt like he was unburdened of the secret that weighed him down all these years.
"Remarkably, I'm feeling a little lifted," he said. "[I'm] just devoid of everything bothering me and it's just a wonderful feeling."
Dep's former boss, Diddy recently weighed in on his former rapper's guilty verdict.
"I was like, 'Wow'," Diddy recently told Funkmaster Flex when asked what he thought of Dep's guilty verdict on April 17. "None of that was in G. Dep's nature. When there were certain things that he was going through with the substance abuse situation, he'd be a different person, but on an every day [basis], he was probably one of the nicest, most quietest, shyest, most humble cats that were out there. It was just so out of his character that it was mind-blowing."
Coleman has a wife, Crystal Sutton, and three school-age children.—Mark Lelinwalla