Curren$y Talks $1.5 Million Lawsuit Against Damon Dash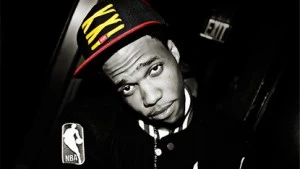 It was just about two years ago to this day that Curren$y proudly accepted and put on a chain with a diamond encrusted logo of the legendary Roc-A-Fella records. The Hot Spitta sat next to Dame Dash in the now defunct DD172 headquarters and told MTV News he was going to help the mogul resurrect his label who had suffered a depleted roster and a separation of its moguls, Kareem "Biggs" Burke, Jay-Z and of course Dash.
Now that Dash and Curren$y have parted ways and the New Orleans lyricist filed a $1.5 million lawsuit in March claiming that Dame had been wrongfully selling his album The Muscle Car Chronicles, which came out earlier this year.
XXL recently caught up with Curren$y as he kicked off his "Jet Life Tour 2012." The usually animated MC was very tight lipped however when talking about the case.
"I don't know what we gonna do, but when it's all said and done, I'll tell y'all about it," he said somberly in his tour bus, parked outside the House of Blue before his concert.
In May of 2010, Curren$y's tone way more optimistic, as he was excited about working with Dash.
"What that means, what that shows me, is that dude thinks as highly of me as I do him," Curren$y said back then about aligning with Dash and sporting his new Roc chain. "I know what's behind that. We all know and the fans know what that represented at the height of it. The aesthetic of it"
"I think we just having fun, really," Dash offered in 2010, sitting in his office at DD172 next to Curren$y. "[Curren$y] inspired me to dust off the chains. We brought 'em out for kicks, just 'cause we could. Then we was like, 'F--- it, let's put it out through Roc-A-Fella.' It was really more something he wanted to do. Basically, 'cause we havin' such a good time, and the opportunity's there, we was like, 'Why not?' "
Curren$y and Dash did work together to release Pilot Talk and Pilot Talk 2, but there partnership soon crumbled. Last year, Curren$y signed with Warner Brothers and will release his Stoned Immaculate on June 12.
Regardless of if Curren$y wins the lawsuit or not, he says he has definitely taken away some jewels from the situation.
"Not ever disappointed," Spitta said on his tour bus in New Orleans. "Any situation I ever been through I look at it as a lesson. Just learning something.  It's not something you should be disappointed from. It should be a opportunity for you to get some game. It's all good. I'm glad. I'm glad."
Dash's lawyer sent a response to the lawsuit recently saying in a statement : "My client's initial reaction to the lawsuit was that of surprise, particularly in light of Curren$y's numerous statements that the Muscle Car Chronicles would be released by BluRoc… My client wishes Curren$y the best in all of his future career endeavors. However, he has expressed a deep concern with respect to the manner in which the artist's attorney and manager have conducted themselves. He sincerely hopes that Curren$y is not being misled or pressured into making unwise decisions, such as the filing of what appears to be a potentially frivolous litigation."
The lawsuit still has not been resolved.—Shaheem Reid