2 Chainz Reveals Collaborations With Meek Mill and Chris Brown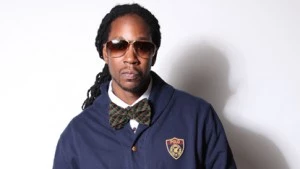 2 Chainz is rapidly becoming hip-hop's go-to MC for a guest feature, with the likes of Kanye West, Nicki Minaj, Young Jeezy and Rick Ross having all tabbed the wiry rhymeslinger for a verse.
And there's a lot more featured appearances from the Atlanta rapper on the way. During a recent Def Jam conference call, 2 Chainz told XXLMag.com that he knocked out nine features last week alone.
Although he decided to remain mum on several of them, he did mention a few big names.
"I did joints for [Chris] Breezy, his artist K-Mac, I did something for Meek Mill," Chainz said. "I did a bunch of stuff, I'm just knocking it out. This dude actually came to my video shoot and said, 'I appreciate that feature you did' and I didn't remember doing it. It was one of Drumma Boy's people."
Chainz is giddy about one of those features, in particular.
"One of them is something special that I don't want to tell y'all," he said. "I'm surprised that they even called me. I was like, 'Wow.' I can't believe the person called me and felt my campaign. I just felt like I won.
"But the cat's gonna be out the bag real soon because he asked would it be a problem if he put the song out and I told him, 'Please go ahead,'" Chainz added. "I gotta record with someone that I have the ultimate respect for and I'm just happy."
It's been a big week for 2 Chainz, as he unleashed his Drake-assisted single, "No Lie," on Tuesday (May 1). His highly-anticipated debut album, Based on a T.R.U. Story, is scheduled for an August 14 release.—Mark Lelinwalla (@XXL_Mark)