Waka Flocka Flame Tears Down SPIN Issue Release Party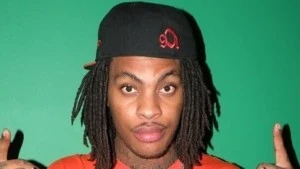 Waka Flocka Flame brought all his energy to the Bowery Hotel to headline SPIN Magazine's issue release party. The ATL rapper is on the cover of the publication's upcoming May/June "Loud Issue."
The Brick Squad rapper took the stage at 10 p.m. sharp, opening with "Round of Applause" and "I Don't Really Care," the first two singles off his upcoming LP, Triple F: Friends, Fans, and Family.
Donning all red, he launched into hits "No Hands," "Hard In Da Paint," "Bustin At 'Em," and "Grove St. Party" from his 2010 debut album, Flockavelli. It was a party indeed, with Waka hopping off the stage to perform cuts amongst the raucous crowd, some of whom were crowd surfing.
The event was an industry packed affair with representatives from a wide array of media. Guests were given their very own Waka swag bag, complete with a copy of the upcoming issue, a copy of "I Don't Really Care," Flocka's single featuring Trey Songz, and a "Don't Flock With Me" T-shirt. The event was DJ-ed by New York's own, DJ Square Biz
Waka closed out the evening's festivities performing his verse off of "Wild Boy," a recent collaboration with Cleveland rapper and 2012 XXL Freshman Machine Gun Kelly. Though it was brief, Waka came out guns blazing, delivering the curb-stomping, high-octane set he's known for.
Waka is sure gaining momentum for his upcoming sophomore album, Triple F: Friends, Fans, and Family, which hits stores June 12.—Neil Martinez-Belkin (@Neil_MB)