Nicki Minaj on Lady Gaga Comparisons: "It Irks Me"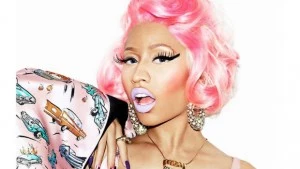 Nicki Minaj has launched into pop stardom, but that doesn't mean that she's alright with being compared to certain other heavyweights of the genre.
Last night (April 9), Minaj appeared on ABC's Nightline, where she spoke about a number of topics, including comparisons to Lady Gaga [Watch the entire interview below]. When asked if the comparisons offend her, the YMCMB rapstress shot down the notion, but still seemed none too pleased with the connection.
"Offend me? No," she responded. "Irks me? Yeah. First of all, I'm a rapper. I'm from Southside, Jamaica, Queens. What are the similarities? Let me turn the cameras and ask you." She proceeded to shoot down interviewed JuJu Chang's suggestions that the wild and colorful outfits and wigs made Minaj and Gaga similar.
Still, the femcee did give a hat tip to Lady Gaga; she just also stressed their differences while doing so. "It's just getting tiring," she continued. 'In the beginning I was like, 'OK, it's cool. Haha, when they get to know me they'll understand.' I mean Gaga is a fantastic artist. She's paved her way. She's opened her own lane. I feel like I have my own lane. And we never cross—ever."
Indeed, Minaj has found her own lane, as her sophomore album, Pink Friday: Roman Reloaded, which dropped on April 3, is set to debut at No. 1 on the Billboard 200 with roughly 250,000 units sold. —Adam Fleischer (@AdamXXL)