Nicki Minaj's Pink Friday … Roman Reloaded Holds Fort at No. 3 on Album Charts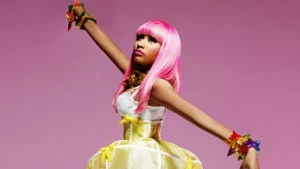 Nicki Minaj continues her domination of the charts this week with her sophomore LP, Pink Friday… Roman Reloaded, coming in at No. 3 on the Billboard 200. After debuting at No. 1. last week, the Young Money femcee moved 81,000 copies on her second wind, bringing Roman Reloaded's total sales to 334,700. The album features the star-studded likes of Lil Wayne, Drake, Nas, Young Jeezy, 2 Chainz and dancehall star Beenie Man.
Last week marked Nicki's first debut LP at No.1, though her 2010 debut album, Pink Friday, sold more and debuted at No. 2 behind Kanye West's, My Beautiful Dark Twisted Fantasy. Nicki's fellow YMCMB artists had her back on the charts as well, as Drake's, Take Care and Tyga's, Careless World round out the top 50, moving 14,000 and 9,800 units, respectively.
Young Jeezy's, TM103 fell out of the top 50 to No. 55, moving almost 8,000 units to bring his total to 559,964. 2011 favorites, Tha Carter IV, Watch The Throne, Recovery and Cole World: The Sideline Story all cracked the top 100, along with Odd Future's, The OF Tape Vol. 2, which sold almost 5,000 copies in its fourth week on the charts for a total of 64,000.
Dr. Dre's jaw-dropping Coachella set, which included a performance from a hologram version of 2Pac, may have made fans reminiscent of Aftermath's glory days, as Dre's, The Chronic: 2001 was joined by 50 Cent's, Get Rich or Die Tryin' and Eminem's, Curtain Call and The Marshall Mathers LP in the top 200.—Calvin Stovall