Machine Gun Kelly Calls Wrestlemania Performance Biggest 90 Seconds of Career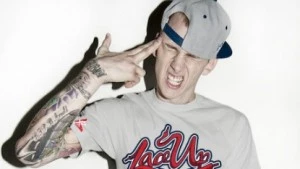 Machine Gun Kelly has performed in front of large crowds in his young career thus far. Sunday night (April 1), however, easily marked the biggest one to date.
That's because, MGK performed "Invicible" in front over 78,000 raucous fans that flooded Sun Life Stadium in Miami for Wrestlemania XXVIII. He performed the track to lead out wrestler John Cena, who wound up losing to the Rock in the main event match.
MGK tweeted that he prepared for the performance by taking a shot of moonshine with Cena in the moments before the big match.
"This is about to be the biggest 1 minute and 30 seconds of my career so far…I'm thinking of all you guys right now," the Bad Boy rapper tweeted. "Be proud. Lace Up!!!"
Rap mogul and Bad Boy boss Diddy introduced MGK, who performed "Invincible" alongside singer Skylar Grey. Afterwards Diddy was nothing but proud of the Cleveland native.
"Proud of you man!" Diddy tweeted after Kelly's performance. "Hard work pays off but there's so much more work to do! Its only just begun! #LaceUp!"
MGK's "Invicible" record was chosen as the overall theme for this year's installment of Wrestlemania, the Super Bowl of pro wrestling. A performance from Miami rapper Flo Rida preceded the Rock's entrance to the ring.
Kells' Wrestlemania performance and ones before it should help the young spitter along the way on Tech N9ne's Hostile Takeover 2012 Tour, which is scheduled to hit 90 shows in 99 days, including stops in New York City, Los Angeles, Atlanta and Las Vegas.—Mark Lelinwalla