2Pac's Greatest Hits LP Enters Billboard Top 200 Thanks to Hologram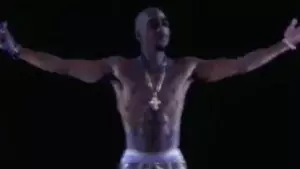 There's definitely power and lasting impact behind the 2Pac hologram at the Coachella music festival on Sunday (April 15).
That's because Billboard Biz is reporting that 2Pac's Greatest Hits album has re-entered the Billboard 200 chart for the first time since 2000, as it moved to No. 129 with 4,000 copies sold, according to Nielsen SoundScan. That's a gain of a whopping 571% over the previous week. The legendary MC, who was tragically murdered back in 1996, also saw gains on classic albums like All Eyez On Me (2,000; up 95%) and Me Against the World (1,000; up 53%). The boost in album sales even had a trickle down effect on songs like "California Love," and "2 Of Amerikaz Most Wanted," which both seen gains in sales as well.
There's no doubting the fanfare that the 2Pac hologram received a few weeks back, appearing on stage alongside Snoop Dogg and Dr. Dre. The virtual 'Pac's popularity even sparked net rumors of Dre, Snoop and the 2Pac hologram heading out on tour.
However, Dre strongly refuted any such idea, commenting that the virtual 'Pac was only for Coachella.
"As you know, we had a hologram of Tupac Shakur show up as a part of our show, and I want to thank a couple of companies out there that made my idea come to life," the West Coast pioneer began in a message to his fans, posted on the YouTube page of Interscope Records, where he is signed. "I wanna say what's up to AV Concepts, who actually projected the hologram; I wanna say what's up to Digital Domain for actually putting the image together—they did an incredible job and everybody out there loved it.
"It was strictly for Coachella—get it right," Dre added. "I wanna get rid of all the rumors out there…this was not done for a tour. If a tour happens? We'll see. This was done strictly for Coachella 2012, baby. Just for you."—Jakinder Singh