G. Dep Reacts to Guilty Verdict: "It Was God's Will"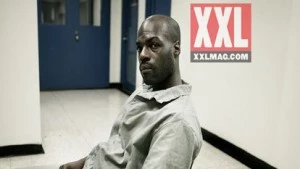 G. Dep gave his first statement since being found guilty of second-degree murder on Tuesday (April 17).
"However it went down, it was just one of them things where I knew I was facing some type of charge, so whatever the verdict was, I knew it was God's will," the former Bad Boy Records rapper told MTV News. "You know, someone was taken from [the Henkel] family, so I can't feel like I was robbed in any kind of way. I just want to thank everyone that was involved in the case. I don't have no ill thoughts towards anybody."
A 12-person jury found Dep, born Trevell Coleman, guilty of the 1993 second-degree murder of Queens, NY man John Henkel. In December 2010, Dep walked into the 25 Precinct in Harlem and shockingly confessed to shooting a man in a botched robbery attempt. At the time of his chilling admission, which was video-taped, Coleman didn't know that the man he shot was killed as a result.
He would subsequently face a murder trial, which lasted five days, ending with Tuesday's guilty verdict in Part 51 of the Supreme Criminal Court in Lower Manhattan, NY. Dep's attorney, Anthony Ricco, tried his best to pinpoint inconsistencies in the detective's evidence in the case, but in the end, the jury did match Coleman's shooting to Henkel's cold case murder.
Dep is best known for his hits "Special Delivery" and "Let's Get It," the latter having helped spawn the Harlem Shake dance craze.
Coleman will be sentenced May 8. He faces 15 years to life in prison.
"I'ma just stay strong and hopefully I'll see y'all in the near future or the far future," Dep added to MTV. "I know life goes on, praise God. And one day maybe I could say hello to y'all again."—Mark Lelinwalla