DJ Khaled's Tour Bus Explodes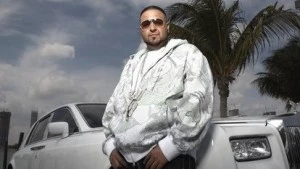 DJ Khaled and his team sure survived a scare over the weekend.
The Cash Money DJ had to cancel a scheduled concert in Orlando on Friday night (April 27) after his tour bus went up in flames.
"I'm sry I couldn't make it 2 grad bash it was out of my control my tour bus caught on fire & blew up!," Khaled tweeted out to the masses shortly after the event, adding a photo of the bus covered in flames. "The gd thing me & my team is ok!"
After surviving that scare it's highly likely that Khaled will go back to setting his full focus on his next album, Kiss The Ring.
The LP's lead single, "Take It to the Head," featuring Rick Ross, Nicki Minaj, Lil Wayne and Chris Brown continues to heat up on radio.
Meanwhile, Khaled further created buzz by teaming up with Kanye West for Yeezy's massive single "Theraflu," which was later renamed to "Way Too Cold."
The boisterous Khaled also promised fans that the next collabo he and 'Ye cooked up will be another undeniable banger.
"Me and Kanye West went back in the lab and we made another record and got some features on there too," he told MTV earlier in the month. "I can't really talk about it, so expect another monstrous earthquake to hit the streets."—Jakinder Singh