BLOG: G. Dep's Murder Trial Comes to a Chilling End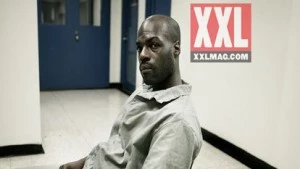 Part 51 of the Supreme Criminal Court in Lower Manhattan, NY got noticeably colder on Tuesday afternoon (April 17). And as I sat there, during the fifth day of the trial, it was almost like the frigid flush of the air conditioners were beginning to feel like a premonition to an equally-chilling verdict in the murder trial of Trevell "G. Dep" Coleman.
Something told me, the verdict was coming.
Fifteen minutes after the 2:00 p.m. EST lunch break, the 12-person jury passed a note to the judge, asking for another explanation of second-degree murder under the felony murder statute.
The verdict had to be getting closer now.
Eight minutes after that, they passed another note, this one in attempt of trying to get a better explanation of reasonable doubt.
The verdict was next. I just had an undeniable gut feeling that it was coming.
At 2:54 p.m., a security guard made a walkie-talkie call, asking for more security to fill the room on the 13th floor. In a flash, four more security guards filed into the Part 51 courtroom, joining the previous three that were already there. That's seven security guards, covering the parameters of the rectangular room.
In that instant, my mind thought back to Papoose, telling me about the moments leading up to the guilty verdict of his wife, rapper Remy Ma, and how he noticed security flooding the courtroom, nearly stalking for the verdict.
Right then and there, not only did I know the verdict was minutes away…I knew what it would be and my heart began beating rapidly.
"We the jury find the defendant…guilty," one juror read.
And silence. Absolute silence. Other than a look back over his shoulder, Dep didn't have any reaction. His family, including his wife Crystal Sutton and mother, fought back tears in the courtroom, but let them go freely once outside.
Coleman had submitted a video-taped confession that had him admitting to shooting a man— who the prosecution successfully matched to 32-year-old John Henkel—in a 1993 robbery on 114th Street and Park Avenue, but one's never quite ready for that guilty verdict. That one world and two syllables can send chills up your spine. Guil-ty.
Perhaps Coleman's attorney Anthony Ricco said it best:
"Short trial, short world."
Looking back on this, I think people will definitely ask, 'Why would Coleman confess to shooting a man over 17 years later?'
Ricco offered his take after the verdict.
"Trevell is a very courageous person," he said. "He's very different of people from this era. He has a conscience and a heart."
He argued that Trevell's decision to confess should teach fellow rappers about accountability.
"It's probably one of the most powerful statements that a rapper has ever made and that's being accountable," Ricco continued.
Dep's wife, Crystal, who was so gracious in helping XXL set up the initial interview with her husband on Rikers Island last spring, texted me after the verdict:
"Just give me a moment to digest and explain to my boys," she said.
Her and Dep have eight-year-old twin boys together.
She later tweeted out her love to her husband and and his supporters: "Thank you everyone for your support and prayers. In the end its God's will."
It's similar to what Ricco said upon exiting the court.
"God doesn't leave you in the deep water to drown and hopefully Trevell won't drown."
Hopefully not.—XXL Senior Editor Mark Lelinwalla, who covered the G. Dep murder case.