Rick Ross Wins Court Case Over Freeway Ricky Ross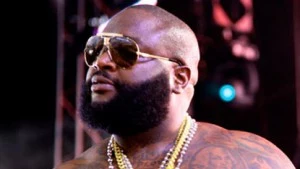 Rick Ross has a great reason to bellow his "hunngh" grunt now. That's because he's going to be able to keep his name.
TMZ reported that on Thursday (March 29), a Los Angeles County Superior Court judge dismissed a suit filed by former drug dealer "Freeway" Rick Ross, who tried to claim ownership of the name. "Freeway" Rick Ross was trying to take sole ownership of the name and stop the Bawse from using it, but that didn't work.
Thursday's court ruling signals a big victory for Ricky Rozay, who had to give a deposition in a Miami court back in early February on why he should own the trademark of the moniker Rick Ross.
This comes after "Freeway" Rick Ross filed a $10 million lawsuit against the rapper in May 2010, accusing him of profiting off of his name illegally. However, a judge ruled that "Freeway" couldn't sue because of his criminal rap sheet and that case was subsequently dismissed in Federal Court in November 2010.
"Freeway" Rick later appealed the decision in a state court, dragging out the case until Thursday's decision.
Currently on a European tour, Rozay didn't immediately acknowledge Thursday's victorious court ruling via his Twitter account. However, Ross has been enjoying a solid year thus far.
After suffering two separate seizures last October, the Bawse started this year off on a solid start with the release of his Rich Forever mixtape, which featured the likes of Nas, Diddy, 2 Chainz and his MMG family Meek Mill and Wale.
He's kept his sound bubbling via guest appearances, ranging from the likes of Nicki Minaj to Game.—Jakinder Singh