Raekwon Says Joint LP With Biggie Was Likely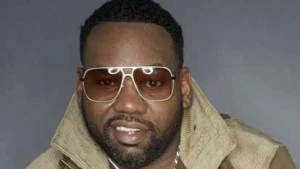 Raekwon believes that he and the Notorious B.I.G. could have recorded an album together.
Despite the competition between his Wu-Tang Clan and Bad Boy's Biggie, Raekwon says there was always respect between the two heavyweight MCs.
"First and foremost when we all came up together it was almost like the best time in hip-hop," Raekwon recently told MTV's RapFix. "And at that time we were young, we were childhood stars with a vision, at that time we all was doin' it. Like I tell the world to this day, beef is something when it's on and poppin'; competition is competition. At the end of the day I feel like the same way he loved our music, we loved his music.
"We probably would've did an album," he added. "That's how I feel, because like I said we were all runnin' neck and neck."
He reminded hip-hop fans that Wu-Tang and Biggie did collaborate before B.I.G.'s untimely death in 1997.
"Don't forget Meth worked with him on joints," added Raekwon, referring to the Wu's Method Man being featured on Biggie's, "The What," off B.I.G.'s 1994 solo debut album, Ready to Die.
In another recent interview on RapFix Live, Lil' Kim confirmed that Biggie was a fan of Wu-Tang.
"He liked Wu-Tang's music, I'll tell you, he liked their music despite all the craziness," Kim told Sway, the show's host.
Back in 2002, another legendary New York MC, Nas, addressed the beef between Wu and the Notorious B.I.G. on "Last Real Nigga Alive."
"That's when Ghostface said it on the Purple Tape, Bad Boy biting Nas album cover way/Big told me Rae was stealing my slang, and Rae told me out in Shaolin, Big would do the same thing/But I borrowed from both them niggas."—Jakinder Singh