Nicki Minaj Signs Multi-Million Dollar Deal With Pepsi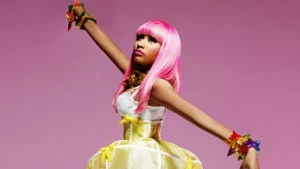 Lil Wayne isn't the only one from Young Money to bag an endorsement deal with a soft drink.
Nicki Minaj is set to earn millions as the new face of a new Pepsi beverage, Forbes is reporting. Derek Jackson, the Glu agency chief who brokered the agreement, told Forbes that the Young Money Princess has already inked a multi-million dollar deal with Pepsi, with a commercial already being shot in South America. Grainy footage of the supposed commercial has already surfaced on the net.
"You'll see the commercial probably in the next two months," Jackson told Forbes' Zack O'Malley Greenburg last week. "That'll be a segue into a new beverage Pepsi has, called 'Pop,' and she'll be the face of the brand … it's going to be explosive."
This marks the second major partnership between Pepsi and the YMCMB umbrella. Earlier this month, Wayne and Mountain Dew, another Pepsi product, debuted their DEWeezy campaign, which was also negotiated by Jackson.
"We are excited to partner Lil Wayne's brand with a brand like Mountain Dew, a household name," said Cortez Bryant, the President of Young Money and a co-CEO of Blueprint Group, via a press release statement.
Just like Nicki's appeal should cover a broad enough range for Pepsi's new 'Pop' product, Weezy's Mountain Dew collabo seems to be a great match.
That's because, long before Wayne even inked a contract with the soft drink, Mountain Dew was a favorite drink choice amongst skateboarders. Wayne's ever-growing love for skateboarding and the deal with Mountain Dew, includes an option that could have Pepsi funding an original film, featuring the rapper, also according to Forbes. Although, there's no telling if such a film would be skateboarding-themed, Wayne hasn't been shy about his dedication to skating.—Jakinder Singh