Malice Changes Name to No Malice, Announces Mixtape Dropping This Summer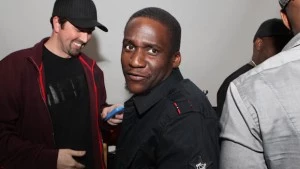 The Clipse's Malice is ready for a new start, beginning with changing his artistic name.
Pusha T's brother recently announced via a Vimeo video that he is changing his name from Malice to No Malice. And, to christen himself with his new moniker, the Virginia rapper attends his own funeral in the Gene Thorton-directed clip.
At the end of the vid, No Malice reveals that his new project, Hear Ye Him!, will arrive this summer.
Check the video out below:
In addition to working on a new EP and new material with Pusha for a Clipse reunion LP, No Malice is working on a book titled 32, which is being co-written with his former manager Anthony Gonzalez, who is currently serving a 32-year prison term.
"32 is basically the life of my good friend and manager, Anthony Gonzalez, who is currently serving a 32-year sentence right now," NM explained last year during an interview with FlyingWithDaFishes.com. "We talk daily and he feels compelled to tell his story and open up a lot of eyes… You always hear, 'you gonna either end up dead or in jail.' I always heard it and believed it, but I just never believed anything would happen to our friend or people I know. I don't know why I was fooled… I think it was a wake up to everyone around us: friends, family, our community. If it stops someone from going in the same route… it was all fun games and giggles until it went down… if you ask anthony now, 'was it worth it?' I know he would give you a  renown, 'no.'"
32 will drop under Malice's own publishing company. —Gina Montana