Machine Gun Kelly Breaks Down EP, Says DVD Has 1.5 Hours of Footage [Video]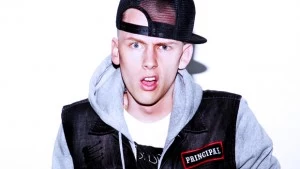 Machine Gun Kelly is a busy man.
After appearing on the 2012 XXL Freshman cover last month, the Cleveland native headed down to Austin for SXSW last week. Later this month, he's departing on a 99 day tour with Tech N9ne where he'll rock 90 cities, and this summer the skinny rhyme-slinger will be dropping his debut album Lace Up. But today (March 20), he offers his fans an EP/DVD, Half Naked and Almost Famous, available in stores and on iTunes.
The project, which will be released through 19XX/Bad Boy/Interscope Records, is set to serve as a prelude for MGK's major label debut, currently slated for later this year.
"The album's been done," Kells confirmed to XXLMag.com while down at SXSW, shortly before riling up the crowd at the SOBs 30th Anniversary concert. "The EP, it's kind of like a preview. I really added two songs and added the DVD, just for the fans. I never understood the point of EPs, cause I was like, Why would you give me this many songs? But [now] it makes sense."
The new songs that the Cleveland native referred to are "See My Tears" and "EST 4 Life." In addition to those, the EP will include "Half Naked and Almost Famous," "Warning Shot," featuring vocals from Cassie, and "Wild Boy," alongside Waka Flocka, which earlier this year hit No. 1 on BET"s 106 & Park. All three were previously included on October 2011's Rage Pack.
To compliment the songs, MGK has included a DVD, which compiles footage from the last year and a half into one and a half hours for fans' viewing pleasure. "If you buy the EP, your computer will recognize it and you can watch the DVD," he continued, before promising it will give an intimate look into his life. "It's, like, personal, in-my-house footage. It's dope as fuck."
MGK's Half Naked and Almost Famous is available now. —Adam Fleischer