Drake Remembers First Performance at New York's S.O.B.'s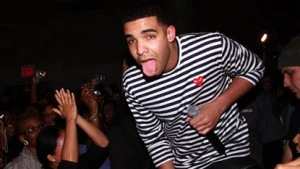 Performing at New York's S.O.B.s has long been a right of passage in hip-hop. Three years ago—then buzzing on the heels of his So Far Gone mixtape—Drake joined the ranks of MCs who've delivered career-defining concerts on the legendary stage.
With S.O.B.'s set to celebrate its 30-year anniversary at SXSW tonight (March 14), Drizzy Drake spoke to XXLMag.com about his first show at the historic venue.
"When I was at S.O.B.'s, it was a lot of nerves," Drake told XXL. "I was nervous. Not only that, but it just had so much pressure behind the show. Not only that, but I had no band. I had no sense of what makes a great performance."
Though the Young Money MC's set was a  bit unpolished, it clearly showed promise. He's come a long way since then—going on several tours and performing in a number of award shows.
"Being able to watch Wayne for the last couple of years, then going out with Jay to Europe, watching Trey [Songz] grow, watching just the people around me grow performance-wise, I've gotten better and more comfortable," Drake explained. "That's the key. You feeling comfortable so the room feels comfortable."
S.O.B.'s 30-year anniversary celebration will feature performances from Machine Gun Kelly, 2 Chainz, Slaughterhouse, the Airplane Boys, Maya Azucena and R&B singer Miguel.—Carl Chery (@cchery)