Wale & Miguel Spread Love at NYC's Irving Plaza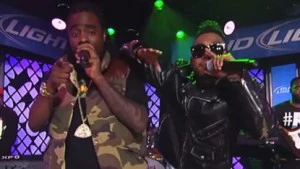 Hip-Hop was alive and rocking Friday night (February 10th)  in New York City, as Wale and Miguel headlined a Valentines Day-preceding concert at the Irving Plaza. But they weren't the only two acts present, as Wale surprised the crowd with special surprise guest French Montana.
With a full band behind him, Wale took the stage at nearly 11:00p.m., kicking off his set by performing "Legendary" off his Ambition album and "Beautiful Bliss" off Attention Deficit. The MMG MC continued to warm up the crowd with "That Way," before surprising fans with surprise guest and friend of the MMG camp, French Montana. The newly-signed Bad Boy lit up the crowd with performances of "Shot Caller" and "Stay Schemin'" before throwing it back to Wale.
From there, the DC native and former XXL Freshman ran through joints like "Tats on My Arm," "No Days Off," his newest single "Sabotage" and crowd pleaser "Chain Music." "Lotus Flower Bomb" had Wale bringing out his fellow Irving Plaza headliner Miguel. The duo performed the cut back-to-back, the crowd assisting Miguel by singing the contagious chorus with him.
After getting the crowd in the palm of his hands, Wale wrapped up the show with hits such as "Nike Boots," "The Break-Up Song," "Pretty Girls," and his verse off Waka Flocka's "No Hands."
The night opened up with sets from Virginia rapper Black Cobain and Roc Nation singer and songwriter Bridget Kelly, before segueing to Miguel and the closer Wale.
Free condoms were offered to the crowd upon arrival.  —Christian Bonoan