New York City's Historic S.O.B.'s Venue to Celebrate 30-Year Anniversary at SXSW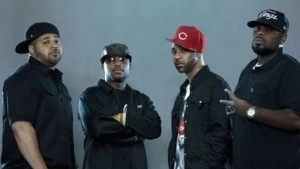 New York City's S.O.B.s has been home to hundreds of memorable hip-hop performances through the years. This year marks Sounds of Brazil's 30th year of existence.
To celebrate its third decade of open doors, the historic downtown Manhattan venue will set off an all-star anniversary concert as part of this year's SXSW on Wednesday, March 14 in Austin, Texas.
The all-star anniversary show will feature the likes of Bad Boy's Machine Gun Kelly, 2 Chainz, Slaughterhouse [Joe Budden, Joell Ortiz, Royce Da 5'9, Crooked I], the Airplane Boys and Maya Azucena. R&B crooner Miguel will also be part of the bill.
The show is to be held at 6th Street's Malaia World Lounge in Austin.
Kanye West, Common, Drake and Mobb Deep are just some of the hip-hop acts that have performed at S.O.B.'s throughout the years. DMX is set to make his return to NYC performance this Thursday, Feb. 23, while Joe Budden is scheduled to touch the same stage on Sunday, Feb. 26 and Monday, Feb. 27, where he'll perform his series, Mood Muzik 1 & 2 and Mood Muzik 3 & 4.
"After 30 years of building S.O.B's into one of the elite music venues in NYC, we are honored to finally be showcasing some of the best of Urban Music at SXSW," said S.O.B.'s owner Larry Gold via a press release statement.
"We've gathered some of the freshest talent out today who've put on legendary performances here in New York and brought them to SXSW for a night to remember!" added Noizy Cricket!! founder, Le'Roy Benros. —Jakinder Singh