Jay-Z, Pharrell Planned "Glory" Tribute Before Blue Ivy Was Born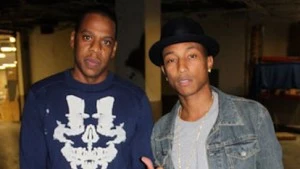 Surprised at how quick Jay-Z dropped "Glory" after his daughter, Blue Ivy Carter, was born in January?
Well, the specially-crafted tribute song to his little lady was actually a well-thought out plan that seen fruition, according to Pharrell, the track's producer and longtime collaborator of Hov.
"It was something we had planned before it happened, so we were basically waiting," Pharrell told MTV News on the red carpet of the Oscars on Sunday night (Feb. 26), where he was the night's musical consultant along with composer Hans Zimmer.
"That was like our nod and homage to when Stevie [Wonder] did it for his baby, [Aisha on 'Isn't She Lovely']," P continued. "And we weren't trying to make the same song at all, it was like we wanted to capture a moment in time to commemorate the birth of his baby. I did the same thing with [my baby] Rocket, I'm just more quiet and private about my life. But he and his beautiful wife, they live a different lifestyle and for him it was important for him to stop everything that he had going on and just sort of make statement to his baby and his wife. I was honored to be a filmmaker for that beat."
In related news, Jay-Z, his wife Beyonce and their daughter made their first public appearance in New York City over the weekend, where they were getting lunch at trendy Manhattan spot Sant Ambroeus. The power couple released photos of Blue Ivy earlier in February. —Jakinder Singh