Jay-Z and Roc Nation Signee Rita Ora Channel B.I.G.'s "Party & Bullshit" Record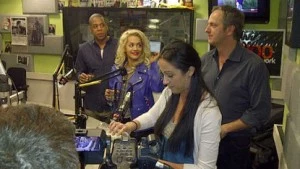 Jay-Z made a surprise appearance on Clear Channel's Z100 radio station last night (February 23) to introduce his latest Roc Nation signee, Rita Ora.
Showing up unannounced— no entourage, no security— the Roc boss turned to Z100 and KTU to play the premiere of the songstress' B.I.G. debut single, "Party & Bullshit," which coincidently bares the same title as his late friend, The Notorious B.I.G.'s raucous track. It's not as gritty as it's predecessor but, nonetheless offers a fun-loving energy.
"This was all very spontaneous. We just came to see some great friends over here at Z100 in my neighborhood and we knew they would like what they heard cause Rita is amazing," said Jay-Z via the airwaves. "This is what radio is all about— feeling, emotion and discovering new music and artists and sharing it with a huge audience."
The song title homage comes after Hov delivered quite the tribute to the Invisible Bully during his previous two-night show at Carnegie Hall earlier this month, taking to the balcony to honor the late great with "Juicy" and "Mo Money Mo Problems."
Stay tuned to XXLMag.com for an entire month's-worth of Biggie-related stories that celebrate his life and death, extras from the issue, including outtakes, as well as everyday hip-hop news and much more. —Ralph Bristout