Common Calls Drake Out On New Dis Track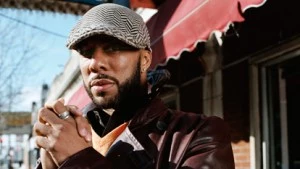 Common doesn't want to trade subliminals with Drake. Instead, the Chi-town MC is calling Drizzy out directly in his latest dis track.
"My motto is Chicago bitch/Everybody know you sweet, what the problem is?" Common begins firing at Drake over Rick Ross's "Stay Schemin'" instrumental, the same track Drizzy took subliminal shots at Common on before.
"Don't play dumb, I'm the one that acknowledged it/Son of a bitch, I imagine what your father is/She said, 'How you make your opponent, the rapper of the moment his style he don't own it?'/Acting all hard, when he hardly like that/[Singing] You gonna mess around and make me catch a body like that, owww."
Common continued his verse with:
"Don't do it 'cause every song you make is really ho music/I heard you say you wasn't a bitch cause you sing, you a bitch cause you clean like a bitch that's 18," he continues. "Can't say my name but rap about a nigga's wife/you so Black and White trying to live a nigga's life/I'm taking too long with this amateur guy, you ain't wettin' nobody, nigga, you Canada Dry."
After the verse, Common says, "make no mistake, I'm talking about Drake," adding "it's the remix: Rick Ross, Common and that ho-ass nigga." The track ends with the Destiny Child's chorus off "Say My Name." "Say my name, say my name, when no one is around... you acting kinda shady, why the sudden change?... Better say my name," Beyoncé's voice is heard harmonizing.
This record comes on the heels of Drake's subliminal verse aimed at Common on the official version of the same Rick Ross' record. On the track, Aubrey raps:
"It bothers me when the Gods get to acting like the broads/Guess every team doesn't come complete with n*ggas like ours," Drake raps. "That's why I see no need to compete with n*ggas like y'all/I just ask that when you see me you speak up n*ggas that's all/Don't be ducking like you never wanted nothing/It's feeling like rap changed/There was a time it was rugged/Back when, if a nigga reached, it was for the weapon/Nowadays niggas reach, just to sell they record."
Although the origins of this beef are not clear, rap fans are buzzing that it stems over Serena Williams, Common's ex-girlfriend and rumored fling of Drake's. —Jakinder Singh