Birdman Says He Plans on Signing Two More Acts to YMCMB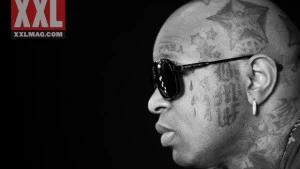 2012 will bring lots of new music from the YMCMB family, but could it also be bringing new artists to the roster?
Birdman says he has his eagle eyes on two acts in particular.
"Wow. I got a few things I'm trying to work out," The numero uno Stunna told XXL recently. "Nothing I want speak on this moment. Definitely working on something big, though."
While The Birdman wouldn't divulge who might be coming on board, he did say who was not joining the roster. At least for now. The CEO of the musical cartel said there was no truth to the rumors that Lil B and former G-Unit staple Young Buck were joining the family.
"Both of them is two of the little homies I have the utmost respect for," he said. " I don't know Lil B's situation. I don't know Buck's situation. I'm friends to both of them. If the opportunity ever came, I would love to work with both of them. I know Buck is in a situation. I really don't know Lil B's situation, he's real cool with my son Wayne. I got love and respect for both of them, but they never came across the menu yet. I spoke with Buck a few times, he's been a friend of the family. B is a friend of the family. But It ain't came to none of that. Not to this point."
When asked if the artists he's pursing are established vets or up-and-coming stars, The Birdman replied "both."
"We like to be new, young," he said. "My son [Wayne] does the newer acts [on Young Money]. On our side [Cash Money] it be more veteran." —Shaheem Reid