T.I. Says His Legal Troubles Kept Him From Signing Meek Mill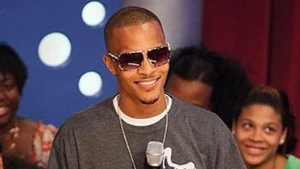 T.I. is blaming his legal woes for not being able to sign Meek Mill to his Grand Hustle imprint before the up-and-coming rapper signed to Maybach Music Group.
"After my two [jail] hiatuses I was put in a position where I couldn't really make moves on Meek as quick as he may have wanted to," Tip told Billboard.com's The Juice.
Instead, of course, Meek signed with Rick Ross' MMG, become an XXL Freshman and has had a huge year, scoring hits like "I'ma Boss," "Tupac Back" and "House Party" all before his solo effort with MMG.
"I never been one want to hold anyone back or to slow down the success of anybody," T.I. continued. "I'm the first to try to enhance what you have and if I can't make it better then I shouldn't be a part of it."
Before signing to Ross' label, Meek got his feet wet while hanging out T.I., even making a cameo in the King of The South's "What Up, What's Haapnin'" video. –Jakinder Singh