Mary J. Blige Hopes Lil' Kim and Nicki Minaj Squash Their Beef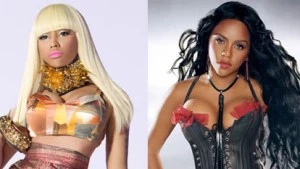 Mary J. Blige wants Nicki Minaj and Lil' Kim to officially squash the beef.
On a recent appearance on The Morning Riot radio show on WGCI Chicago, the Queen of Hip-Hop Soul said that she hopes the female rappers can let bygones be bygones.
"I love and respect…Kim is my friend and I love and respect Nicki," Mary said to WCGI's Tony Sculfield. "I got to know the young lady and she's a sweetheart. I pray and hope that people would just…because people are putting fuel on it."
When Sculfield brought up the point that female rappers usually beef, Mary agreed, adding that it's usually the company they keep that spark the tension.
"It's the crews," MJB continued. "It's the people behind the whole thing. Maybe one day it will happen. I'm hoping. We just all got to think positive. Everyone is just thinking so negative about it and everyone is in it, but if a bunch of people would say, 'Yo, stop this and let's help these girls do something together or to see the light.''"
The tension between Lil Kim and Nicki Minaj became public last year when Lil' Kim publicly claimed Nicki Minaj hadn't paid enough homage to her. Dis tracks have been released in both directions since and interviews during which both take jabs at each other, but as of late, other than Lil Kim's recent "I'm Not The One" release, the beef seems to be at a standstill.—Jakinder Singh