French Montana Talks "Shot Caller" Video, His Decision to Sign with Diddy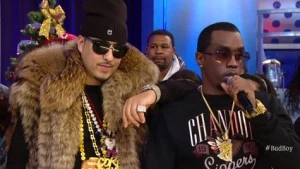 French Montana called the shot: he's going with Diddy's Bad Boy. Hip-Hop's hottest free agent made it official yesterday (December 8), announcing he inked a deal with Diddy's Bad Boy Records on BET's 106 & Park music countdown show. The Bronx rapper got the most out of the exposure, too, releasing the video for his still steadily-building hit "Shot Caller," which features Charlie Rock on the hook.
"The concept is basically a girl who is looking for a baller, shot caller," French explained about the clip that was filmed months ago. "I shot it in the Bronx, I shot it in the club. There's a shot of me chillin' with Diddy. Everything is how I want it to be. I'm living my dream. Then at the end of the video, I wake up in the store. DJ Bobby Trends, he's like 'get up, stop day dreaming.  You still wanna be a rapper?' The concept is like that. I shot part of it in mount haven projects. I shot part in the club, shot part in Atlanta."
"We just needed the right elements," French continued. "The Bronx, we shot in the middle of the projects in that basketball courts. We did it in Atlanta. I had to get Puff Daddy in the joint. He's the original one who said  "baller, shot caller" and since he's on the remix, we're going to have a 'to be continued.'  Busta Rhymes came through. Waka Flocka, Noreaga, Uncle Murder,  Fat Joe, all the DJs came through. That's a lot right there."
French says his peers show him so much support because of his work ethic.
"I think they show me a lot of love because they seen my struggle and grind," he explained. "They see me finally get to where I'm supposed to be at. You know in New York, over nighters don't make it out here. It feels good, because I've always been the underdog."
Speaking of the Big Apple, Diddy and Bad Boy Record's being synonymous with the city, definitely played a part in French's signing to the label; he wanted to rep his hometown.
"When 50 made it big, he went with Eminem and Dr. Dre," he said about New Yorkers signing with non-New York-based labels. "When Nicki [Minaj] made it big, she went with Lil Wayne and them. Nobody really did it Big and kept it in New York like how Big did it. I love what Diddy does for his artists."—Shaheem Reid