Fabolous' There Is No Competition 3 to be Released on Christmas Day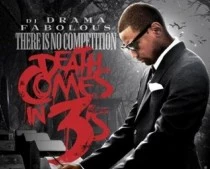 Before skepticism starts looming about its release date, Fabolous confirmed to XXLMag.com that the third installment of his There Is No Competition mixtape series will be dropping on Christmas Day. The Brooklyn lyricist announced during an interview that the project, properly titled There Is No Competition: Death Comes In 3's, is set to hit the nets this weekend.
"With this mixtape—it's Christmas time, I wanted to do something for the fans," he tells XXL. "People are [going to be] home all week, it's a great time to get in people's brain all week."
Despite having broken release date promises with his previous tapes, Fab assures this won't suffer the same fate.
"I hate saying dates [because] certain things happen and you waiting on other people too," he explains. "Sometimes its out of your hands [but] I'm almost certain we gonna have a Christmas release. I might even push it back [to] later on in the evening just to make sure [everything is] good."
Coming off the heels of TiNC2, Fab explains that Part 3 will feature him "bullying" again.
" I got some original joints on there but, there's also more energy with this one," he says. "I think with the first There Is No Competition, it was more like [me] just rapping and spitting but, this one I wanted a little more energy just because coming off of Soul Tape, that was like my perspective flows, slower beats, and stuff like that so I wanted to give the Ying to the Yang. I wanted to give these niggas some ignorant [shit] but still bars."
Hosted by DJ Drama, TiNC3 is set to feature Lloyd Banks, Trey Songz, Ne-Yo, Red Café, Paul Cain and more and will also be the final chapter in the mixtape trilogy, stating, "I don't know if I'm gonna go further because I feel like three is enough for a series."
"I think that's what happens with movies sometimes with the 'Jason Part…' 9s, 10s you [end up] losing a little bit of flavor because you're just recreating the same thing ten times," he shares. "So, I think this one might be the final installment of the There Is No Competition series."
Despite possibly closing the chapter on the series, Loso already has his eyes on starting another with The Soul Tape. "I think I could do this [TiNC3] just to build the energy and go into the album (Loso's Way 2) then Soul Tape II could come after," he says.
There Is No Competition: Death Comes In 3's will arrive on 12/25. —Ralph Bristout