Drake Reacts to Fan Face Tattoo, Threatens Tattoo Artist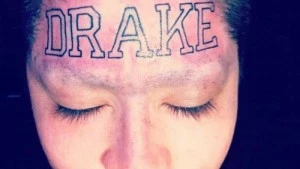 A picture of a fan with a tattoo of Drake's name across her forehead recently spread rapidly across the Internet, and now Drizzy has responded to the photo and decision.
"I want to meet her and understand what happened," he told Mando Fresko of Power 106. "That's cool, though. Like, I feel you, 100 percent. That, to me, is, like, absolutely incredible."
The Young Money rhymer also had some not-so-kind words for the artist that inked the word on the woman's face.
"The guy who tatted it is a fucking asshole, though," he said. "I will tell you that. I don't fuck with that guy. Fuck you to that tat artist, by the way, 'cause you're an asshole, for real. And you should lose your job, and you should never do tattoos again. I don't fuck with you and if I ever see you I'm gonna fuck you up."
Drake's threat was likely in response to things that Kevin Campbell, the man behind the tattoo, said recently to vice. "The funny thing is, I didn't know who Drake was," Campbell said in an interview earlier this month. "I figured it was her hood or some shit, not some goofnugget R&B dude."
"I guess I feel bad that this dumbass got the name of the softest muthafucka in hip-hop tattooed on her forehead," he continued. "But what makes that any less valid of a tattoo to her? I lost a little sleep over it that first night, wondering if I wanted to be known as the asshole who tattooed "DRAKE" on some crackhead's forehead. None of the face tattoos I had done prior to this got any publicity, so I was a little surprised that this one took off like it did. I'm still kinda debating whether or not I should send you guys the whole set of pictures, I don't really want to paint the shop in a bad light, but it is what it is. In the end, she paid me to do this to her, which really means she did this to herself."
Drizzy did bring it back to the positivity before the interview came to a close, though. "Real shit, though, I really, really like—I wanna talk to this girl and understand it all," he reiterated. "It's love. It's crazy. It's surreal. I don't even wanna look at it anymore."
Drake's Take Care went platinum earlier this week. —Adam Fleischer