Lil Wayne & Drake Scrap Joint LP Because of Jay-Z & Kanye West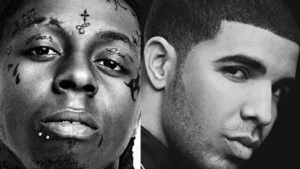 Drake and Lil Wayne's joint album has official been shelved.
During an interview with XXL for the upcoming December issue, Drizzy explained that he and Lil Wayne have decided to put their proposed joint album on the back burner, maybe indefinitely, because he felt fans would compare the project to Watch The Throne rather than judge it on its own artistic merit.
"Me and Wayne scrapped the idea of a collaboration album," Drake told XXL exclusively. "We just agreed that it would be looked upon as… It would be sort of this competition [with Watch The Throne]. I feel like it would get caught in this whirlwind of hype. [Wayne] agreed. We just said, 'If we do it, we'll do it down the line. But right now is not the time.'"
Drake's Take Care comes out on November 15, although his highly-anticipated sophomore album already suffered a leak. XXL reported on Monday that Drizzy is also working on a mixtape with Rick Ross entitled, Y.O.L.O., which means You Only Live Once.
"I've been working on that for the last couple of weeks," Drizzy detailed of his street project with Rozay. "We haven't really connected because he's been going through this thing with his health. I've been stashing my little beats and verses. I don't have a drop date for it or a time for it.  To be honest, it's something I just really wanted to pop up out of nowhere. I'm not gonna release  no single or anything. It's something I want to do because I enjoy like working with Ross."
Make sure to cop the upcoming December issue of XXL for more of this story.–Shaheem Reid