Rick Ross Cancels North Carolina Show After Health Scares [Update]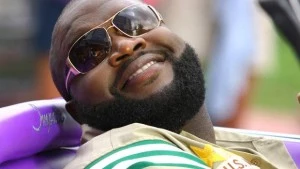 After suffering two separate health scares (seizures) Friday (October 14), Rick Ross canceled his homecoming performance in North Carolina yesterday (October 15). The Maybach Music Group boss was initially  scheduled to perform despite health concerns, but, hours before show time, TMZ.com confirmed that Ross would not be taking the stage.
According to TMZ, a member of Ross' camp confirmed to the Greensboro Coliseum Complex, the venue where Ross was set to perform, that the rapper would make his scheduled North Carolina AT&T gig. Inquiries made to the venue by XXLMag.com were not returned as of press time.
Ross was scheduled to perform in Memphis on Friday (October 14), however, while traveling to the show from Florida he suffered a seizure, first reported by TMZ. The private jet was forced to land in Alabama in order for the rapper to seek medical treatment. Ross later sent a message over Twitter that confirmed he was OK and included a TwitVid announcing that he was back on a plane to Memphis from Alabama and that he was fine.
Word broke late, Friday night, though, that Ross suffered a second seizure on the way to Memphis. Fellow rappers have sent messages over Twitter in support of Ross, from Drake to Bun B to Diddy, the latter who tweeted from his @iamdiddy account, "Praying for my brother @rickyrozay ! #PrayforRickRoss.""
Calls for prayers were also expressed by a slew of others including Twista and 2 Chainz. Twista offered, "#Boss, a person who is guided and watched by angels above. Salute @rickyrozay," while 2 Chainz tweeted, "My luv and prayers go out to my big bruh and real stand up guy @rickyrozay …I kno he gone b str8. He a G!"
Q-Tip gave sound advice to the hard-working star saying: "Prayers up 4 @rickyrozay. Homie rest up.Your health is bigger than bizness."
Calls to Rick Ross's management, his label, Def Jam, and his MMG home, Warner Bros., have yet to provide any additional information regarding the cause of the rapper's condition. —Shaheem Reid and Jayson Rodriguez