Big Sean, Future Kickoff New Rising Icons Season in NYC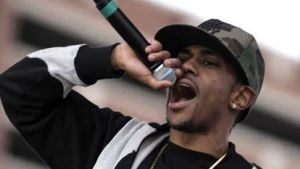 If a number one single, a headlining tour and adoring fans weren't enough, Big Sean can add another accomplishment to his list: "Rising Icon."
The Detroit rhyme slinger, along with Atlanta's own Future and R&B crooner Miguel, took to the stage on Monday night (October 10) at Manhattan's Good Units to celebrate the third season of Grey Goose's "Rising Icons" initiative, a project to recognize emerging musical talent.
Sean, fresh off of performing alongside Kanye West the night before, was playoff ready. Decked out in his trademark Red Wings snapback, jean jacket and enough gold to make Drake jealous, got the crowd to its feet early with "I Do It."
Partygoers such as NFL star Darrelle Revis, singer/producer Ryan Leslie and Def Jam exec Steve Bartels were all on hand.
"If you gettin fucked up tonight and having a good time, I need you to sing this song," the G.O.O.D. Music star told the audience before "My Last" began.
Chris Brown and West weren't in attendance, but plenty revelers made it, including Sean's mother and brother.
Prior to the Finally Famous MC's set, Future hit the stage for "Racks" and "Tony Montana." Miguel briefly performed, singing his J. Cole-assisted "All I Want Is You."
Last season's "Rising Icons" lineup featured J. Cole, B.o.B, Estelle, Melania Fiona, and Jay Sean, among others. —Jayson Rodriguez