Young Jeezy Releases TM 103: Hustlerz Ambition Tracklist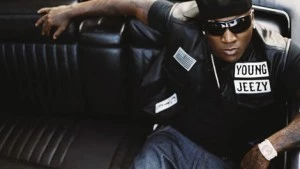 Although rumors surfaced over the weekend that Young Jeezy's oft-delayed TM 103: Hustlerz Ambition album was pushed back again — and this time indefinitely — Jeezy released a hand-written tracklist via his Twitter to hold his fans down in the meantime.
"TRACCLISTING THATS ALL! I MAKE IT ROUGH ON THESE NIGGAS," he tweeted along with the below photo of the tracklist attached. "SIDEBAR TWITTER GANGSTA GO TO TWITTA JAIL. ITS THE WORLD!" The 15-song list includes songs like "Talk 2 Me," "Trump," "I Do," "This One's For You" and "Change Yo Life," among others. It appears the single "Shake Life," which was released early summer, will not be on the set.
Check out the photo below: Over the weekend, a tweet posted by @MaybachMusicGrp, read, "THE OTHER KID LP PUSHED BACK ONCE AGAIN!NO TRACKLIST..NO PREORDER..NO MOTIVATION!!!! #UNFCKNBELIEVABLE .. @RICKYROZAY WONT LET US DOWN #GFID." That tweet was followed by another jab at Jeezy, saying, "WE BOUT $$$..THAT OTHER SHIT AINT #MMG WE DROP WHEN WE SAY WE DROP'N!!!!!!!!DETOX DROP'N BEFOR THAT OTHER BOY!!!"
Check back with XXLmag.com as this story develops. — Gina Montana