Birdman Denies Buying Copies of Lil Wayne's Tha Carter IV [Audio]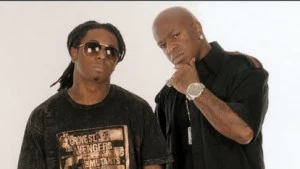 As soon as the official Nielsen SoundScan numbers for Lil Wayne's Tha Carter IV came out yesterday (September 6), naysayers have gone online to allege that Cash Money co-founder, Bryan "Baby" Williams bought copies of the disc to bulk up the LP's stats.
As previously reported, CIV sold 964,000 units in its first week, but according to Baby, he didn't buy any of those copies.
"I press and distribute [CDs], ain't no need for me to buy em.," Birdman told Sway on his Shade 45 morning show earlier today. "That's hustling backwards, we ain't in it for that. I ain't ever been a part of that steam to be buying records. We don't do that homie. That don't go with what we do. We true about what we do, we real about what we do, we work hard every day at it."
"There's no such thing as me buying those CDs," he added. "I wouldn't even play it like that. I don't think that's gangsta, nor fair ball, I ain't even in it for that." [Listen below]
Audio clip: Adobe Flash Player (version 9 or above) is required to play this audio clip. Download the latest version here. You also need to have JavaScript enabled in your browser.
Lil Wayne took to Twitter to thank his fans for their support last night.
"Wow!!!!!!!!!! I have the best fans in the universe," he wrote. "I thank u all. Hard work and dedication pays well. Young Mula baby!(weezy voice) (sic)." —Elan Mancini