Tyler, the Creator is Not Signed to Pharrell's New Label, Rep Says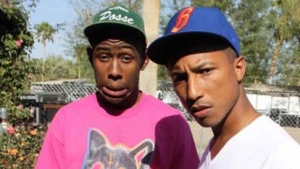 Earlier today (August 1), reports hit the interwebs that Odd Future frontman, Tyler, the Creator had signed with a new label started by Pharrell Williams of the Neptunes. Heathcliff Berru, the group's publicist told XXLMag.com that while the two are working together on music, Tyler did not ink a deal with his longtime musical influence.
In fact, Tyler and company are currently in the process of starting their own label with Sony Red. "Odd Future Records is launching soon," Berru said without revealing any other details.
Tyler also took to Twitter to debunk the rumors. "Why The Fuck Would I Sign With Someone Else When I Am The Fucking Boss Ceo Whatever Of My Own Shit,' he asked. "Even Tho Pharrell Is The Coolest of All Fucking Time Ever To Me, I Got My Own Shit (sic)."
Pharrell's new label, called I Am Other, is being described by theneptunes.org as a home for artists known more for being heralded on the Internet as opposed to the streets. "They're not getting the recognition in the mainstream media, but in the digital world they dominate – the 16-, 17-, 18-year-old virtuosos all over the world coming out of nowhere and just taking stake in their position," Pharrell reportedly said. "The Others are multifaceted, pro-active people who live outside the box and aren't confined by categories." —Jesse Gissen