Kanye West, Jay-Z's Watch the Throne Projected to Sell 500-550K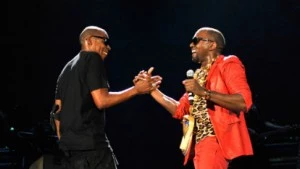 [Editor's Note: This story has been changed since its original posting.]
Jay-Z and Kanye West's blockbuster joint album, Watch the Throne, hasn't even been available for 24-hours, but projections for first week sales have already been determined.
The industry insiders at hitsdailydouble.com are estimating that the disc will sell around 500,000 to 550,000 when the Nielsen SoundScan results come in next Wednesday, August 17.
As previously reported, Jay and Yeezy decided to exclusively release their LP on iTunes until Friday, August 12, where fans will only be able to purchase physical CDs at Best Buy. On August 23, the album will be available at all retailers, a move Jay-Z described as a way to curb bootleggers from leaking the album—which they miraculously managed to achieve.
Watch the Throne is currently the number one album on the iTunes sales chart, in the world.
Stay tuned to XXLMag.com next Wednesday to find out the official numbers. —Elan Mancini