Jay-Z, Kanye West Remain Atop the Charts, Eminem's Recovery Reaches 4 Mil in Sales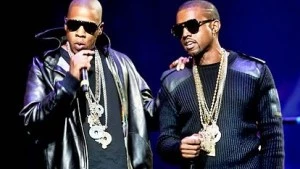 For the second week in row, Jay-Z and Kanye West, collectively known as The Throne, sit comfortably at No. 1 on the Billboard Top 200 albums chart.
According to the Nielsen SoundScan report, released today (August 24), the duo's LP, Watch the Throne, sold 176,800 units over the last seven days, bringing the rap superstar's total numbers to 612,900. And like the color of the CD's cover art, the disc is know officially certified gold.
The next rap release on the charts comes from another duo; Eminem and Royce Da 5'9". The Motor City MCs' EP, Hell: The Sequel, landed at No. 13 this week, after collecting 19,500 more fans. In 10 weeks, Bad Meets Evil has a total sales figure of 463,000.
Rounding out the Top 40 is Ace Hood and Nicki Minaj. Hood's Blood, Sweat & Tears fell to No. 34 and pushed out 10,700 more units this week, while Ms. Minaj moved up to No. 37 with an additional 9,900 units of Pink Friday flying off shelves. Overall AH has 36,500 in sales and the Young Money princess 1,543,400.
Eminem's Recovery didn't make it into the Top 40 this week, but it manage to reach 4 million in sales. The Detroit wordsmith's sixth solo LP for Interscope Records, which was released in June of 2010, sold 8,800 units last week alone.
Check back with XXLMag.com next week to find out how Game's The R.E.D. Album does on the Billboard 200. —Elan Mancini