Big Boi Arrested, Busted With Ecstasy & Viagra Pills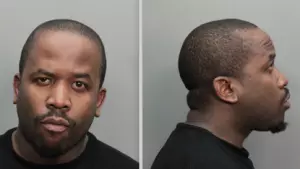 Big Boi found himself in big trouble earlier today (August 7).
According to TMZ, the OutKast rapper was arrested in Miami as he was leaving a cruise ship. He was busted with ecstasy pills, MDMA powder (the main component found in ecstasy) and a bottle of Viagra pills, which he didn't have a prescription for.
He was booked in the Miami-Dade County jail this afternoon and charged with three counts of possession of a controlled substance and one count of possession of drug paraphernalia—which are all felonies.
He was later released on $16,000 bond. Shortly after he took to his Twitter account where he jokingly wrote, "Shiiiiit they said it was the Love Boat (sic)."
"While Big Boi was traveling with his group and friends, a small amount of contraband was found in the collective luggage," his lawyer Daniel Kane said in a statement. "I am confident when the entire facts are aired Big Boi will be completely exonerated."
Stay tuned to XXLMag.com as this story develops. —Elan Mancini