Gucci Mane Released from Jail, Welcome Home Show Planned for Tonight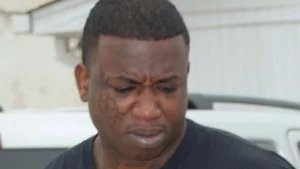 Atlanta rapper Gucci Mane is a free man. XXLMag.com has confirmed that the Atlanta rapper was released earlier this morning (July 8) after serving about three months for a probation violation.
"At approximately 4:35 in the morning Gucci Mane was released from Fulton County Jail," Gucci's lawyer, Ashutosh Joshi, told XXLMag.com. "Late last night on July 7, the Georgia Department of Corrections released its hold that was preventing him from being released from the jail."
Joshi says that Gooch plans on celebrating his newfound freedom tonight at a concert produced by former business partner Big Cat in the ATL. As of press time the time of the show is unknown.
As previously reported, The 1017 Brick Squad leader was arrested on April 8 for violating his probation from a 2005 arrest. He was quickly sentenced to five months in jail, though his release came after just three months. Joshi told XXLMag.com that inmates typically serve half of their probation revocation time due to overcrowding issues at Fulton County Jail, where the troubled rapper served the majority of his sentence.
Coincidently his April arrest came on the heels of a separate incident for allegedly pushing a woman out of his Hummer back in January. Gucci is expected back in court for that case on August 19. —Lauren Carter & Jesse Gissen
UPDATE: Gucci took to Twitter to address his fans and give details on tonight's show. "I'm back bitch gucci back bitch did u miss me or miss my raps bitch. Tonight my welcome home party is at Club Fathom 412 Market st Chattanooga TN, don't miss it brrr (sic)."