Game Says "Uncle Otis" Is "Just Fun," Not A Jay-Z Dis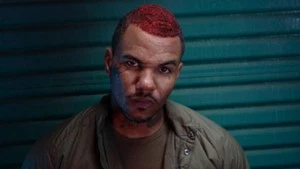 Game already knows that everyone is gonna say he dissed Jay-Z on "Uncle Otis." But the Compton MC has a different take on things, of course. According to him, if two rappers rock on a track then one has to best the other the song, right?
"I was feeling that joint," Game told XXLmag.com about Hov and Kanye West's "Otis." "'Ye is snapping."
And, Jay?
"Kanye was snapping," he said, wryly.
"Here's a dome shot to this niggas named Otis," Game himself snapped not to subtlety on "Uncle Otis." "Niggas think they the coldest, but they just the oldest/Niggas be chasing they youth, but its gone/Yo, 'Ye this nigga didn't even want to put you on."
The track is the latest barb the former G-Unit star has taken at Jay-Z throughout his career. "Uncle Otis" also serves as the first offering from Game's forthcoming mixtape Hood Mornin due August 1 with producer Mars. The mixtape will be followed next month by Game's long-in-the-works LP, The R.E.D. Album.
On "Uncle Otis," Game flips his flow throughout the track and described the record as his 2012 version of 50 Cent's "How To Rob."
"It's poking jokes and taking shots, but that's what I do," he said. "I'm just shooting in the dark, when I turn on the lights if a couple of motherfuckers is down, I got to get up out of there.
"Anybody that takes it personal, they really shouldn't but if you do, we can go there," he added.
Bay Area newcomer Kreayshawn landed in Game's cross-hairs, too. The "Gucci Gucci" rapper raised his ire for her tweet where she paraphrased DMX and used the N-word. Despite not uttering it conversation and later explaining that she doesn't say the word herself, Game said her use was flagrant enough for him.
"You can't be playing with that word, some people will take it serious," he explained. "Especially coming from someone that's [not black]. There's a lot of tragic history behind it."—Jayson Rodriguez