Foxy Brown to Sue NY, NYPD, & DA Over 'Mooning' Case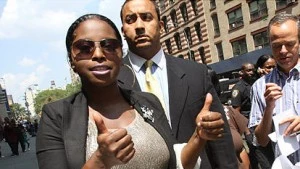 Foxy Brown's legal battles aren't quite over. While the criminal contempt case against her was dropped this past Tuesday (July 12), her attorney Salvatore Strazzullo revealed plans to fight back by suing the city of New York, the New York Police Department and District Attorney's office for "malicious prosecution."
As previously reported, Foxy was cleared of charges that she violated an order of protection issued against her by her neighbor, Arlene Raymond, after she allegedly exposed her buttocks during an altercation last July. The reason that the judge dropped the charges was because Raymond refused to testify.
According to New York's Daily News, Fox Boogie's lawyer confidently asserted that if the case did go to trial, that they would have won by proving the defendant, was lying.
"Our big ace in the hold is she (Brown) wasn't wearing any underwear," Strazzulo told the Daily News. According to police reports, Raymond, claimed she saw Brown's underwear when she was allegedly mooned. Strazzulo stated that FB would have testified that she was wearing a dress that required no underwear on that night of July 2010.
FB commented on the defendant after the charges were dropped. "It rooted in jealousy, it's a [scary] thing like borderline obsession," she said. "Someone wants to be you and have the life I worked very hard for."
No word yet on when the Ill Na Na rapper and her legal team will take legal action against the prosecution. Stay tuned to XXLMag.com for updates. —Rachelle Jean-Louis