Eminem's Recovery Surpasses 1 Mil Digital Downloads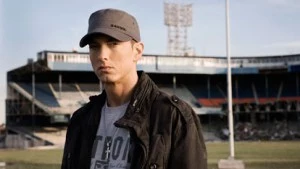 Eminem continues his dominance in hip-hop with his latest record-breaking feat. The Detroit superstar's seventh solo album, Recovery, has become the first album to sell 1 million digital downloads in the U.S.
"Over the years we've made a concerted effort to engage Em's online fan base, so this achievement is especially rewarding," said longtime manager Paul Rosenberg in a statement. "Eminem made an amazing album with Recovery and the fans responded in record numbers."
In addition to being the best-selling digital album of all-time, Recovery was the top selling album of 2010 in the U.S. The Grammy-winning album, which nabbed awards for rap album and rap solo performance, has sold nearly 4 million copies in the U.S. and more than 5.7 million copies worldwide since its release in June of 2010.
Em's latest release, the Bad Meets Evil EP, Hell: The Sequel, with Royce Da 5'9", reached No. 1 two weeks ago, giving the Shady Records boss two No. 1 albums within the past year. —Lauren Carter