Snoop Wants to Make "Hood" X-Factor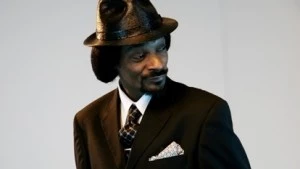 Snoop Dogg, citing the success of televised musical talent contests, has revealed plans to produce a hip-hop version of The X Factor. Saying that The X Factor and American Idol are "great shows," Snoop wants to create a version with a little more street savvy and find hip-hop's next big star.
"I'm looking for a deal from a network to find America's hottest hood artists," Snoop said at a London press conference flanked by smoke and pole dancers, adding that he hopes to make the show "straight directed to the hood… at people with no money, just talent."
In the UK to perform a show in support of his recent Doggumentary album, Snoop also teased an idea to start a supermarket chain (called "Snoopermarkets," of course) and basked in the glory of some recent acting success.
Snoop recently appeared in a cameo role in the Antonio Banderas movie The Big Bang. The film opened last Friday (May 20) and is currently in theaters. —Carter Maness