Cam'ron & Vado Sell 7.5K in Week One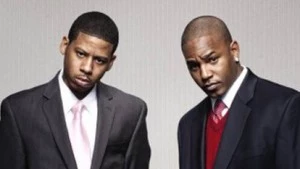 Hey Muma, the numbers are in. The long delayed collaborative CD between Cam'ron and his protégé Vado, Gunz N' Butta, finally hit stores last Tuesday (April 19), and according to today's Nielsen SoundScan report, failed to break into the Billboard Top 40.
The Harlem duo, known collectively as The U.N., managed to land a seat at No. 78, after moving about 7,500 units in week one. In comparison, fellow Dipset member, Jim Jones, sold about 21,000 copies of his new disc, Capo, in his charts debut two weeks ago.
Back at the top of the charts is Wiz Khalifa's Rolling Papers, holding down the No. 12 position. In its fourth week, the disc picked up 33,800 more in sales. Overall the LP's stats stand at 328,100.
Another hip-hop act doesn't appear on the charts until the 30s. No. 35 and No. 36 are occupied by Eminem and Nicki Minaj respectively. Recovery added 16,500 to its tally, while Pink Friday's intake was about 500 short of Em's. To-date, Em is sitting on about 3,819,200 in sales and Nick around 1,329,300.
Falling right outside the Top 40 at No. 55 is West Coast rap vet DJ Quick. His latest album, The Book of David, earned about 9,700 in sales in his debut week.
Without any new rap releases dropping yesterday, look for Wiz, Em and Nicki struggle to remain in the Billboard Top 40 next week. —Elan Mancini