Curren$y's MCC Album Pushed Back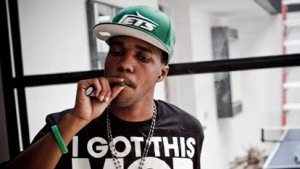 Curren$y's Muscle Car Chronicles apparently ran out of gas. Spitta's film and accompanying nine-track soundtrack was scheduled to arrive on shelves today (March 15) through Damon Dash's BluRoc imprint on Def Jam Recordings, but never made it into stores as planned.
XXLMag.com spoke to Spitta's manager who said that there was a "slight slow down in the project' but assured fans that "the album will drop," and to "stay tuned for a new release date."
The Jets Life leader echoed the sentiments on his Twitter account.  "Sorry bout the re scheduling," he wrote. "Mcc coming soon tho."
Reps for Def Jam and BluRoc have yet to return phone calls to XXL as of press time to explain the hold-up.
Last month a spokesperson for BluRoc told XXL that MCC will include eight original records that finds the New Orleans MC rhyming over live instrumentation produced by Dash's folk artist Sean O'Connell, as well as drumming by The Mars Volta's own Thomas Pridgen. The last song, "Fly Out (Part Tres)," is a remix that includes verses from Mikey Rocks of The Cool Kids and Tabi Bonney. Meanwhile, the 22-minute Coodie & Chike directed movie, documents the recording. [Watch preview below]
As previously reported, the 2009 XXL Freshman recently signed to Waner Bros Records. His first disc for the label,  Covert Coup, is an EP completely produced by The Alchemist, that is set to come out on April 19.—Jesse Gissen