Yung LA Explains Face Tattoo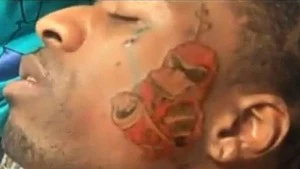 The Internet has been buzzing since an image of Yung LA's new face tattoo popped up online. Following speculation that the ink represented the Duct Tape Entertainment logo—an Atlanta based record label, home to such artists as Alley Boy and Big Bank Black—LA phoned XXLMag.com to clarify the reasoning behind his decision.
The ATL native confirmed that the tat—freshly inked last week—is in fact the DTE logo. "That tattoo just comes from something in the city," he explained. "My cousins grew up with a lot of people from Zone 6, I know a lot of people from Zone 6, and the people from Zone 6, there whole movement is called Duct Tape and I just had been really getting up with these guys. Everybody in the city from Zone 6, Zone 3, Zone 1, from Duct Tape to YGC to CDB to 30 Deep, there's so many cliques in Atlanta and I just wanted to be the Robin Hood, I just wanted to be the guy that could have relationships with everybody in the city."
Alley Boy, whose an artist and the co-CEO of DTE., told XXL that he does not co-sign the "Ain't I" rapper getting the ink. "[Yung LA] aint' get the okay from none one of us and ain't none one of us told you nothin' about you having nothing to do with Duct Tape," Alley told XXLMag.com.
LA disagrees, saying he went to the tattoo shop after a meeting with Big Bank, who he calls "the real CEO" of Duct Tape. "[Big Bank] was kinda fucking with me and just feeling the whole link up move that I was screaming. Off of that when we sat down and had the talking everybody was just choppin' it up and I was like this is what it is, this is the new beginning."
"I can't really go on what [Alley Boy] say 'cause he's not the CEO of the label," Yung continued. "So he wasn't around at the sit-down, when we did chop it up. I had my relationship with Big Bank Black, other cats, and people that I grew up with and they love me genuinely. That's the relationship I had."
LA wants to clarify that he never wanted people to think he made the move in an effort to join the label. "It was never a signing," he said. "It was just an understanding. It's a verbal understanding, it's an eye to eye understanding that's saying, 'Boy I see what you got going on,' 'Oh shit I'm fucking with you, when we out in these clubs we linkin' up.' It was never a deal."
Meanwhile, Yung LA is trying to get out of his deal with T.I.'s label Grand Hustle Records, which he said is a struggle. "Right now we're actually fighting," he said. "We got our lawyers going to war with them. They just tryin' to free me out of the contract. They don't wanna let me go, but they don't want to work for me either."
Asked why he wants to leave, he said: "The business is just all backwards. I feel like at this time in my career its time to surround myself with a successful system, no disrespect to Grand Hustle, when I first got there, their system was crazy. They had a system that worked. And over the last three-and-a-half years I just watched their system go down."
In addition, LA was recently involved in several violet altercations. Two weeks back, Yung said the mother of his child stabbed him over six times and he was shot six months ago in a robbery. In both incidents, he claims to have called Grand Hustle, and no one visitied him in the hospital. "I reached out to everybody that I thought was my family and nobody came to see me," he shared. "After that happened it was just hurtin'."
As for what's next for Yung LA, he said he is currently prepping the release of his new mixtape, Tattoos and Jewelry, set to drop on March 30.—Jesse Gissen