Jay-Z & Kanye's Collabo LP Dropping Next Week, Says Yeezy [VIDEO]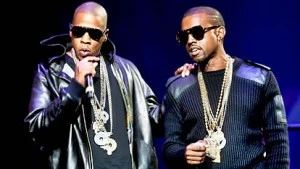 It looks like Jay-Z and Kanye West will be starting 2011 off right. During an after party for Hov's New Years Eve concert in Las Vegas, the Louis Vuitton Don revealed that his collaborative album with his Big Brother will be dropping very shortly.
"Watch the Throne coming in one week," he shouted, standing next to a tuxedoed Jigga.
The announcement comes as a surprise to many fans, as Kanye originally said the disc was set for release in February. While the surprising news has yet to be confirmed by Yeeyz's label Def Jam Recordings, Jay-Z recently stated in an interview with British hip-hop radio personality Tim Westwood, that the duo had "knocked out" a lot of joints, while recording in Peter Gabriel's Bath, England studio. Hov said they plan on putting 10 tracks on the CD.
Stay tuned to XXLMag.com as more details become available. —Elan Mancini