Eminem Talks Shady 2.0 in XXL's March 2011 Issue [Cover Revealed]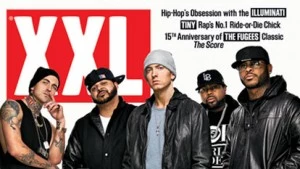 After experiencing a monster recovery, both in the booth and on the charts, rap heavyweight Eminem, is ready to reemerge with the next chapter of his label, Shady Records, and XXL has all of the details in our forthcoming March 2011 issue. [See cover below]
XXL's EIC Vanessa Satten had the opportunity to sit down with the Detroit lyricist and his newest signees—underground supergroup Slaughterhouse, which consists of Royce Da 5' 9", Joe Budden, Crooked I and Joell Ortiz, as well as buzzing Alabama upstart Yelawolf—to talk about their plans to take over the rap game as Shady 2.0.
According to Em, this new roster signifies a rebirth of his company Shady Records, which, founded in 1999, lost steam after several members parted ways (Obie Trice, Stat Quo, Bobby Creekwater) three years ago. "Slaughterhouse, it's kinda phase two of Shady," Em says in the story. "The new generation of Shady Records."
While it was no surprise to rap fans that Marshall Mathers was interested in signing the super lyrical crew of his former rap partner, Royce, Em's deal with up-and-coming Southern rapper, Yela, came as a surprise to the hip-hop nation. But, similar to Slaughterhouse, Em started out as a fan of quick-tongued Alabama MC. "I saw the video to 'Pop the Trunk,' and I was like, 'Yo, this is fuckin' dope,' Em says. "I took the CD home that I had already had and started listening to the shit, and I was like, 'Fuck, he can spit.'"
With the new Shady in tow, Eminem may be ushering in a return to wordplay in hip-hop, something that hip-hop heads have been missing from the genre for quite some time. "It just feels good to put lyricism in the forefront again, in my eyes," Joell Ortiz says in the article. "Some of my heroes, when I came up rhymin', were Biggie Smalls, Big L—rest in peace to all these—Big Pun. Dudes who were passionate about the way they put words together, the message they sent when they rhymed, and just bein' ill with the pen. And I feel like this group, and Yelawolf and Em, are dudes who stand for that. And it's good to see the pure form gettin' shine again."
"'Be afraid,'" Royce warns other rap crews, "cause as soon as we make the announcement that Slaughterhouse and Yelawolf is signed to Shady, not even 30 days after that, it's on the cover of the biggest hip-hop magazine."
Along with the Shady 2.0 cover story, XXL's March 2011 issue will also feature articles on Young Money's latest signee Cory Gunz, and Saigon, as he attempts to make a comeback with the long delayed release of his debut album, The Greatest Story Never Told. Rap vet Snoop Dogg, who on the eve of dropping his 11th solo album, Doggumentary Music, also reveals 11 important lessons he learned along the way. In addition, XXL investigates The Fugees's breakup on the 15th anniversary of the release of their classic album, The Score, the state of the battle rap scene, and hip-hop's obsession with the Illuminati.
To read these stories and much more be sure to pick up XXL's March 2011 issue, hitting newsstands nationwide on February 8. —XXL Staff