Birdman Talks Working With Shyne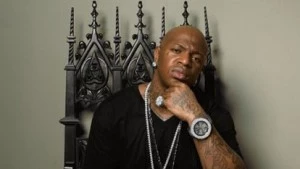 In a recent interview Shyne revealed that he was in talks with Bryan "Bridman" Williams about releasing an album on Cash Money. XXLMag.com chopped it up with Baby to find out the status of the record deal.
"I spoke to Shyne once or twice," the New Orleans entrepreneur told XXL. "I don't really know his situation with Def Jam, but we didn't really have a chance to come around to the business part. But I got respect for what he's doin' and what he is tryna do. We haven't got around to do no business yet, but you never know.
Back in August, Shyne spoke on his relationship with the Cash Money co-founder. "I've known Baby since I was young blood," he told MTV News at the time. "Since I was coming up. I remember they used to come to New York and perform. Cash Money been running for a long time, since '97, putting it in. I remember when they were coming to New York and putting it in. That's when Wayne was a real young blood at the time. They performed at the Tunnel and I used to stay in contact with the theme through my co-defendant.
"[Birdman] was gonna take me on tour with them, then I got locked up," he continued. "He reached out to me and let me know if there was anything he could do to assist. When I was about to come out, he reached out to me again to see if there was anything he could do to help me. We've always had an open line of communication through the same banner, through the same rag. That's inevitable. I've got the utmost respect for what he does. [Baby's] a real roller, putting it in. He built Cash Money from nothing to something that's been great."
Stay tuned to XXLMag.com for more news on Shyne. —Elan Mancini with reporting by Rob Markman