Young Buck Snags Lupe Fiasco & Game for 'Back On My Buck Shit 2' [Cover & Tracklist Revealed] Young Buck is back in business. The former G-Unit rapper linked up with fellow Memphis, TN producer and one-time XXLMag.com blogger Drumma Boy for the sequel to his 2009 mixtape, Back On My Buck Shit, set to drop this Halloween (October 31) at midnight.
DB provided the beats for the entire 16-track project, hosted by DJ Scream and DJ Smallz, while cameos were provided by Lupe Fiasco, Game, 8Ball & MJG, Rocko and the Outlawz. The disc will be offered for free download at both therealyoungbuck.com and drum-squad.com.
Yesterday (October 27) we premiered the first track from the release, "Came Back."
Peep the entire tracklist and cover art for the tape below. —Elan Mancini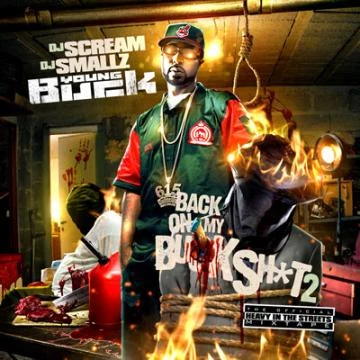 Back On My Buck Shit 2
1) Let Me Go
2) Came Back
3) Got Me One
4) In The Clouds
5) AM/FM featuring Lupe Fiasco
6) Down Wit 'Em
7) The Blues Featuring Game
8) Betta Tell Em Featuring 8Ball
9) Gettin It
10) Done Wit Ya'll
11) Taxin'
12) Identify Featuring Rocko
13) Cleaned Off – featuring Outlawz
14) Lockdown
15) Mark Barton
16) Bonus: "Round Me" – Drumma Boy featuring Young Buck and 8Ball & MJ